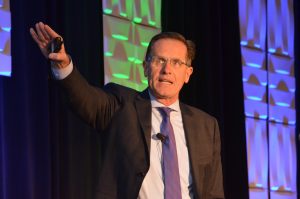 A highlight for all who attended the American Seed Trade Association's (ASTA) CSS & Seed Expo is an agricultural economy report from Dan Basse, AgResource. Back by popular demand, Basse took us through the 2018 economic themes he forecasts we will see in agriculture.
"Generally speaking, it looks to be another year like the last one. We are thinking farming can be somewhere around $58-59 billion for the year ahead. We say that because one of the things that will change this year will be the ARC payment. It will come down because we excluded 2012," Basse said.
As we know, the farm bill is still being written so Basse said we could see some afterthoughts beyond 2019. However, the price of corn, soybeans and wheat won't change much.
Trade continues to sit center-stage for agriculture and the seed industry is keeping their ear to the ground when it comes to NAFTA renegotiations. Basse said the two commodities that would be impacted the most would be corn and pork.
In preparation for the 2018 growing season, Basse said "I want farmers to think ahead to not only the crop they have in their bins but think ahead to 2018, 2019 corn and soybeans. We have profitable landscape prices to lock in going forward. We want farmers to think ahead particularly if there is a weather problem in South America and what they need to be doing in the marketplace for the next three years."
Listen to our complete conversation as Basse summarizes his outlook for 2018. Interview with Dan Basse, AgResource
Dan Basse, Ag Resource, presentation