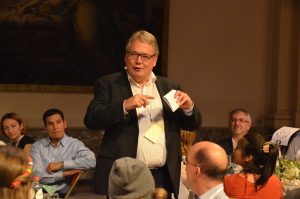 Bayer understands the importance of engaging the next generation as the company works towards improving society's understanding of food production and the challenges associated with it. That was part of the message to young people attending the 2017 Youth Ag Summit in Brussels.
"I think in the past, years ago, we probably had the image that we are a highly innovative company as far as products are concerned, solutions for the farmer, but we believe that innovation has to take place also in other areas, particularly sustainability, but also social responsibility, so we want to address all categories," said Bernd Napf, head of business affairs and communications.
Napf told participants in this year's conference to continue to stay engaged as Bayer works to build a large community that will help to support food production on this planet.
Listen to Jamie's interview with Bernd Napf here: Interview with Bernd Napf, Bayer Business Affairs & Communications
View and download photos from the event here: 2017 Youth Ag Summit Photo Album