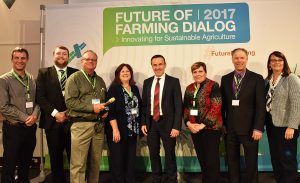 This week Chuck is traveling with Bayer for the 2017 Bayer Future of Farming Dialog taking place in Monheim, Germany. The U.S. delegation of journalists had the opportunity to visit further with Liam Condon, President, Crop Science, a division of Bayer, following his executive address. Condon talks about goals for the company moving forward.
"The most important thing is what the combined new company is going to stand for," says Condon. "It's all about generating more innovation faster that will benefit our growers and help them improve their yields, but also their profitability."
Condon says the company also wants to help growers work in the most sustainable way possible and wants to make whatever innovations the company is generating available to farmers of all sizes. While he wouldn't reveal a new name for the company, Condon says that will be clear on the first day the merger is complete.
Listen to the full interview with Bayer's Liam Condon here: Liam Condon, Bayer