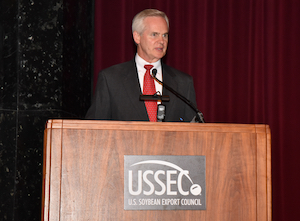 To kick off the 2017 U.S. Soy Global Trade Exchange, Nebraska Lieutenant Governor Mike Foley provided opening remarks to the international and domestic soybean audience. I was able to speak with the Lt. Governor who shared how proud the state is of its agricultural industry. He said, "It's really the backbone of our economy. We like to grow things."
"It's a big deal for us to have so many importers, people from a variety of countries here to learn more about agriculture in Nebraska. We want them to learn about the safety and quality we have in the production of our goods. I think as they spend more time here, they will want to buy more and more of our goods," said Lt. Governor Foley.
The state's water supply and growing conditions are also something to brag about. Finding more international markets helps Nebraska build its economy and hosting conferences like this gives a voice to the farmers and ranchers throughout the state.
Listen to our complete conversation with Nebraska Lieutenant Governor Mike Foley here: Interview with Nebraska Lt. Gov. Mike Foley
You can find photos from the event here: U.S. Soy Global Trade Exchange Photo Album