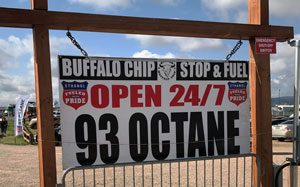 For the first time this year, motorcycle enthusiasts staying at the Buffalo Chip Campground for the Sturgis Motorcycle Rally have a place to buy 93 octane, 10 percent ethanol fuel as they head out for a ride in the Black Hills.
"It's like jet fuel for your bike," said Buffalo Chip owner Rod Woodruff. "It's on your way out of the Chip, so you can stop and don't have to go get in line at some place downtown. It's 24/7 operated by credit card, so fill up and head for the hills!"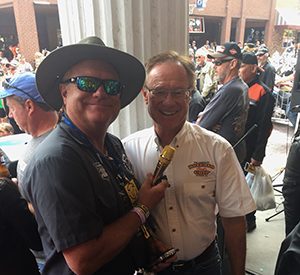 The single pump fuel station was donated by the Renewable Fuels Association (RFA) which has been sponsoring events at the campground and rally for nine years now, and Woodruff is a big fan of ethanol.
"I personally have been using it myself since we've had it available," he said. "It's phenomenal."
Woodruff says the fueling station has already been doing a brisk business, but it will definitely get a good workout this afternoon, as RFA will again sponsor Free Fuel Happy Hours at the rally, providing a free tank of 93 octane E10 for motorcycles. The free tank giveaway will be held today, tomorrow and Thursday from 1-3 pm each day at the Buffalo Chip Campground.
Audio file: Interview with Rod Woodruff, Buffalo Chip Campground owner