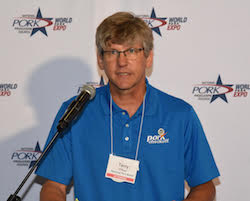 The World Pork Expo was buzzing with the news of the soon-to-be-launched Secure Pork Supply plan.
"The Pork Board is taking a leadership role in preparedness," said Terry O'Neel, vice president of the National Pork Board said at a combined press conference.  "This is another collaborative effort between the National Pork Producers Council, National Pork Board, the American Association of Swine Veterinarians, and state and federal officials."
Bill Northey, Secretary of Ag for the Iowa Department of Agriculture and Land Stewardship understands the need for biosecurity in a very real way. The devastation faced by the poultry industry in his state found a silver lining by being of use in shaping the secure pork plan.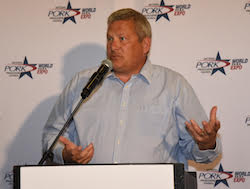 "We all know that when a disease outbreak hits everyone is a little different. Sometimes we don't follow plans exactly because each is unique, but the planning process is hugely important. The request to have each producer be able to look at how they fit into this and how they think about how they fit into this is extremely important," Northey asserts.
Knowing ahead of time what will need to happen on an operation during an outbreak is important, since the most logical step when you don't know where a disease is coming from is to stop movement, Northey adds.
Patrick Webb, a veterinarian and Director of Swine Health Programs, also addressed the audience, along with Bill Even, CEO of the National Pork Board. Listen to their comments in the full press conference here: National Pork Board Press Conference
View and download photos from the event here: 2017 World Pork Expo Photo Album