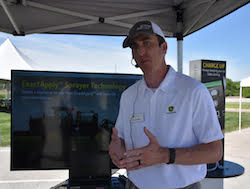 The 4 Series Sprayers from John Deere offer a little something for everyone, Doug Felter says. With options ranging from 600 to 1,200 gallon tanks and 80- to 132-foot booms, these sprayers are set up to provide growers and retailers the ability to get through the fields with timely applications across their operations.
Part of making their sprayers better than ever is the carbon fiber boom, Felter shares. "The call for productivity is ever higher. We know carbon fiber allows us to go to 132 foot now and we think the frontiers are even beyond that for it to even go to wider widths."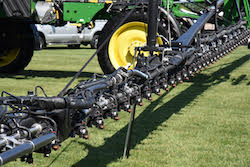 Carbon fiber also offers a lighter weight boom– one-third the weight of a traditional steel boom. Its clean design offers fewer collection points so it's easier to clean and the material is less resistant to corrosion.
The Exact Apply Nozzle launched in August of last year is also changing things up for John Deere sprayers. The six nozzles can be configured for just the right control, depending on the product being applied. And all this can be done from the newly redesigned cab that offers comfort and flexibility in everything from the leather heated and ventilated seats to the reconfigurable buttons in the hydro handle.
Learn more about John Deere's latest upgrades in Jamie's full interview here: Interview with Doug Felter, John Deere