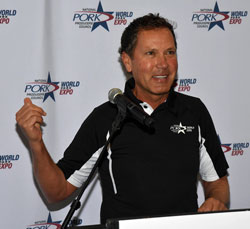 The National Pork Producers Association (NPPC) has been presenting World Pork Expo since 1987, and this year may go down as one of the best and biggest.
"Last year we had 20,000 visitors and we think we may go over that this year," says Ken Maschhoff, NPPC president and Illinois pork producer. The weather has been great and there are 450 companies exhibiting in the expanded trade show and about 1,000 international guests from 40 different countries.
"Expo is truly an international show, with visitors and exhibitors from throughout the world," says Maschhoff who says there is a lot of excitement about the industry but there is a big need to increase exports right now.
"We're going to have to sell more pork abroad and that means trade," said Maschhoff. "Producers are concerned about trade, especially now with TPP off the table."
Listen to Jamie's interview with Ken here: Interview with Ken Maschhoff, NPPC president