Veteran farm broadcaster Jerry Passer is retiring – for real this time.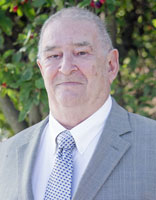 Jerry already retired once after almost 20 years at WMT Radio and TV in Cedar Rapids, Iowa but he came out of retirement in 2002, signing a six month agreement to cover livestock markets for Brownfield Ag News that turned into almost 15 years.
"For almost 35 years of a broadcast career that spans 51 years in July, I have worked for two of the best broadcast companies in the business. Nearly 20 years at WMT Radio and TV in Cedar Rapids, Iowa and 14 ½ for Brownfield," said Passer. "Without a doubt my time at Brownfield has been the best. The people I have worked with are the best in the business."
Jerry is a graduate of Brown Institute of Broadcasting and a Vietnam Era war vet, U.S. Navy. He worked at radio stations in Blue Earth, Albert Lea and Austin Minnesota, Cedar Rapids and Oelwein, Iowa before landing at WMT. He looks forward to spending more time in Texas with his daughter and grandchildren when he officially hangs up the microphone at the end of June.
Anchor/Reporter Meghan Grebner will assume the responsibilities of livestock market reporting in a newly created role on the Brownfield Ag News team.