The recipients of NAMA's Agribusiness Leader and Marketer of the Year are announced months in advance, but they receive those awards and the recognition that comes with them at the annual conference.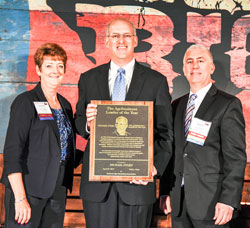 Mike Stern, CEO of Monsanto's The Climate Corporation, received the 2017 Agribusiness Leader of the year award, which is NAMA's highest honor, recognizes outstanding industry leadership.
Mike Stern exemplifies the spirit of the award through his understanding of the challenges farmers face and his passion for solving agriculture's most pressing issue: the need to feed a growing population while minimizing the impact on the environment.
Listen to Mike's comments here: Mike Stern, The Climate Corp, award remarks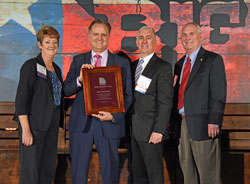 Bader Rutter CEO Greg Nickerson was honored as the 2017 NAMA Marketer of the Year. This award is presented to an active member of the association to recognize outstanding accomplishments in the field of agri-marketing and is sponsored by Agri Marketing magazine.
Through his leadership, Greg Nickerson has helped Bader Rutter become the country's largest agricultural marketing agency. Since 2009, when Nickerson was put in charge, the agency has nearly doubled in size.
Listen to Greg's comments here: Greg Nickerson, Bader Rutter, award remarks
You can find all our photos here: 2017 Agri-Marketing Conference Photo Album