With the Senate in the midst of contentious debate over Supreme Court nominee Neil Gorsuch, agricultural interests are begging the Senate leadership to take a few minutes this week to confirm Sonny Perdue as Secretary of Agriculture before recessing for spring break. House Agriculture Committee Chairman Michael Conaway (R-TX) and Ranking Member Collin Peterson (D-MN) sent a letter to Senate leaders this week encouraging swift confirmation of Perdue. "Beyond the challenges that await the Secretary upon confirmation, we have been presented a budget blueprint for discretionary spending that had no input from the nation's Secretary of Agriculture," they wrote.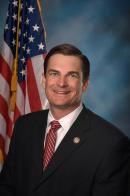 Meanwhile, initial House ag hearings on the next farm bill are continuing without the next agriculture secretary. The Subcommittee on Commodity Exchanges, Energy, and Credit held a hearing on credit programs Tuesday where chairman Austin Scott (R-GA) asked witness to encourage their senators to hold the vote on Perdue this week. "I think the votes are there, it's just a matter of delays that are quite honestly from other things," said Rep. Scott, who says the former governor of his state is a "good honest man and a hard worker that understands the issues."
Listen to Rep. Scott's comments here: Rep. Austin Scott urges confirmation vote for Perdue
Since the U.S. Department of Agriculture is without a secretary, it took a directive from President Trump this week to get the agency to authorize emergency grazing on Conservation Reserve Program (CRP) lands located in Kansas, Oklahoma, and Texas that have been impacted by ongoing wildfires which began almost a month ago.
President Trump sent a memo to USDA Acting Deputy Secretary Michael Young authorizing the action. "I commend and thank President Trump for acting decisively in response to this dire situation," said Young.