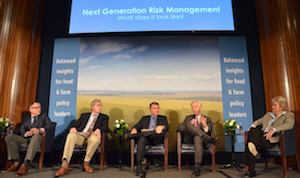 Agri-Pulse hosted a variety of panel discussions last week during their Farm Bill Summit, beginning with 'Next Generation Risk Management – What Does it Look Like?'
Jeff Nalley, Agri-Pulse contributing editor moderated the event, consisting of panelists Mary Kay Thatcher, Sr. Director of Congressional Relations, American Farm Bureau Federation; Rob Larew, Sr. Vice President, Public Policy and Communications, National Farmers Union; Jim Mulhern, President & CEO, National Milk Producers Federation; Joe Glauber, Sr. Research Fellow, International Food Policy Research Institute; Chuck Conner, President & CEO, National Council of Farmer Cooperatives.
Not surprisingly, farm bills of the past, present and future garnered a lot of attention, and participants reiterated over and over that while the farm economy could certainly be better, this isn't the 1980s. Times are hard, but not so precarious and farm bills of the past have helped to get the industry to this place with choice being a key part of today's safety net.
You can hear the entire panel discussion here: Next Generation Risk Management Panel
Photos can be found on the Agri-Pulse website.
Agri-Pulse Farm Bill Summit photos