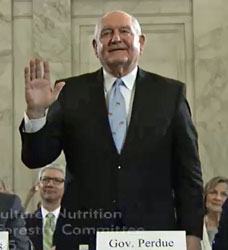 Accompanied by his four children and 14 grandchildren, former Georgia Governor Ervin "Sonny" Perdue III finally had his confirmation hearing before the Senate Agriculture Committee Thursday and will hopefully be confirmed shortly.
"I know there was some anxiety over whether there would be a secretary of agriculture nominee," Perdue began. "I must say with all the humility I can muster that the president must have saved the best for last," he joked.
Perdue's hearing was brief and offered little drama, except a short interruption by an animal rights protester at the beginning of his opening statement. He outlined his four overall goals as agriculture secretary – to maximize opportunity of agriculture to create jobs, prioritize customer service every day, ensure a safe food supply, and protect the resources of the land.
"If confirmed, I look forward to working with the dedicated men and women of the USDA who are committed to serving the 'People's Department,'" said Perdue.
The nominee answered questions on a number of issues, including government regulations, trade, avian flu, and budget.
Listen to Perdue's opening statement here: Sonny Perdue at confirmation hearing