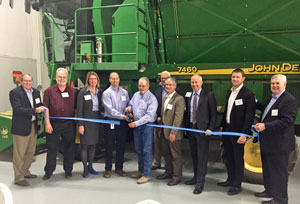 Southwest cotton growers will benefit from a new $16.7 million Bayer breeding and research station near Lubbock, Texas that celebrated its grand opening this week. The facility will focus on developing drought-resistant cotton varieties and traits for limited-input situations.
Pictured in the ribbon cutting photo are:
Tom Speed, Bayer cottonseed and traits; Tim Timmis, Bayer project execution;  Margaret Shields, US cotton breeding manager;  Cory Mills, Bayer station manager; Steve Oswalt, Bayer station manager; Lee Rivenbark, head of seeds, Bayer North America;  David Becker, global cotton breeding lead, Bayer; Dan Pope, mayor of Lubbock, Jason Wistehuff, Bayer Product manager; and Mike Gilbert, Bayer global breeding and trait development lead.
The facility builds on the Bayer history of developing premium quality varieties for Southwest cotton growers through the FiberMax® and Stoneville® brands. The grand opening of the facility, which began operating in October 2016, is being celebrated as researchers prepare to plant the facility's first research crop. The Lubbock facility will employ about 25 people as well as many area residents who will be hired each year to assist with planting and harvesting activities.
In addition to the Lubbock Station, Bayer also built a cotton breeding station in Dawson, Georgia and multi-crop research and development facilities in Marion, Arkansas, and White Heath, Illinois last year.
Learn more in this interview with Margaret Shields, Bayer Cotton Breeding Manager, about the new facility and what it means to cotton growers: Interview with Margaret Shields, Bayer Cotton Breeding Manager