This edition of the ZimmCast comes to you from the 2017 National Farm Machinery Show where BigIron Auctions has been sharing its story and innovative auction platform with show attendees while also supporting the future of agriculture.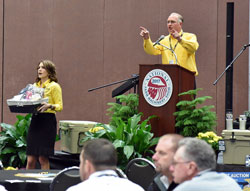 BigIron hosted a Blue and Gold Benefit Auction for the Kentucky FFA Foundation during the Exhibitor Reception Wednesday, celebrated seasons with show attendees, and talked about their website and mobile application that make on-line bidding a breeze.
Mark Stock founded the business with his brother Ron in 1984 as an onsite auction company. Today the company conducts both weekly online and scheduled onsite auctions, and has reinvented the way used equipment is sold.
Mark sat down with Chuck for this ZimmCast to tell us more about this unique auction company. Listen here: ZimmCast with Mark Stock, BigIron Auctions