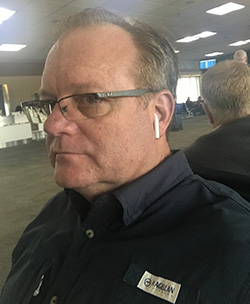 Part One in this series focused on buds. Now it's time to talk pods, as in Apple AirPods ($159.00).
When the @AgriBlogger is on the highway he needs good sound, hands freedom, reliability, good battery life, simple to use. I get that with these. My trial trip was the week of the Potato Expo. I wore my AirPods off and on while flying, in the airport, talking to people in the trade show, making phone calls, listening to music while walking around and in the gym getting some exercise.
So here's what I know.
Do they fall out? I admit that having these fall out of my ear was my main concern after fit/comfort. So far, I have had one side fall out two times. Once I knocked it out and the second time I did not have it fully inserted into my ear. In both cases, I caught it before it fell on the floor. So, they can fall out but I became much less worried about this. BTW, you can use just one side if you want, just like a single side device like my Jabra Eclipse ($129.99).

Fit/Comfort? I could never get any Apple ear buds to fit in my ears. These fit perfectly. After wearing for a while I forget I have them on. They are very comfortable.
Reliable connection/battery? My AirPods connected to my iPhone 7 Plus before I even got the bluetooth settings open! I have not had them disconnect until the battery runs out. Since I can put them into the case, which will re-charge them quickly, I haven't had any battery issues.
Sound Quality? I have a pair of Bose QuietComfort® 20 Acoustic Noise Cancelling® headphones ($249.95). The AirPods can't really compete with these. However, AirPods are not supposed to be noise cancelling. If you don't need it or use it you won't miss it. And, in my opinion, the sound quality of the AirPods is very good, especially if you're mainly making calls. I still enjoyed listening to music on my AirPods too. Very important to me though was how I sounded to the people I called. Everyone I asked said my voice quality was very good.
Controls? There are not any visible bumps or buttons. You can double tap to answer a call, hang up a call or call Siri. That's it. It takes some getting used to. I play music by double tapping and saying, "Play music." Works great. But how to pause or stop? Double tap and say "Stop music." Basically Siri is your control center and seems to do a pretty decent job. Maybe she likes me now. IDK.
Apple AirPods get my recommendation because the price is relatively similar to other quality devices and they seem to just plain do the job intended. If you lose a pod though you do have to pay to replace. A replacement pod or case will cost you $69. Be careful with them!