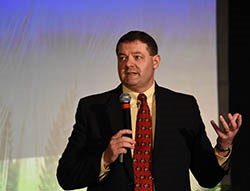 The Agricultural Retailers Association Convention & Expo heard from CEO, Daren Coppock with the President's report and review of the year.
He couldn't begin without talking about the election, Coppock said. "This opens up some unexpected avenues for us. It was a surprising outcome in a number of ways. But if we look at implications for our industry there are a few things that we can draw from the election."
The first opportunity is the relocation of celebrities from Hollywood to Canada, Coppock joked. But on a more serious note, he states that the Trump administration and Republican Congress will offer a time to counter the over abundance of burdensome regulations. The American Farm Bureau Federation has already sent a letter outlining programs that are counter productive, costly, or a liability. Now Coppock has asked staff at the ARA to make a list of regulations specifically applying to retailers as well.
PSM tops the list. In the last year PSM has been challenged in court for not allowing a notification period. The court agreed with ARA's position, but OSHA is now saying they cannot offer interpretation on other regulations. OSHA has appealed, so that process is currently in the works, hopefully to wrap up by the end of the year.
Coppock addressed a number of other issues in his address; listen to them in his full speech here: Daren Coppock, ARA CEO
Lots of photos being uploaded here: 2016 ARA Conference & Expo Photo Album