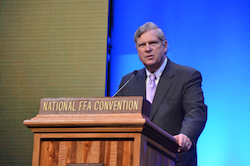 Diversity was the simple message Agriculture Secretary Tom Vilsack shared with FFA members at the 89th National FFA Convention. He encouraged each young person to be proud of our history in agriculture and to use their voice to tell that inspiring story.
"I am here first and foremost today to thank FFA for it's commitment to diversity. Each of you has the opportunity in a small but important way to advance the cause of agriculture in this country through diversity."
Listen to his complete message to FFA members here: Agriculture Sec Vilsack Remarks
Following remarks to FFA members, Secretary Vilsack took time to talk ag issues with members of the agriculture media. He continued on the theme of embracing diversity stating it was imperative for the future of agriculture.
Yesterday, USDA announced that they are awarding $7.6 million in grants to support projects that will grow opportunity in rural America through job training and economic development. The grants will support communities in at least 24 states and the Commonwealth of Puerto Rico, with several projects spanning communities in multiple states.
Listen to the complete presser with Secretary Vilsack where he talks on the above grants, consumer perceptions, GIPSA and when the new Farm Bill might be addressed. Agriculture Sec Vilsack Presser
Be sure to check out even more action by viewing the 89th National FFA Convention & Expo Photo Album.