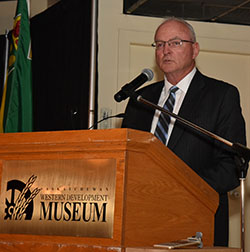 We're getting a Saskatchewan Surprise in Saskatoon for the 2016 Canadian Farm Writers Federation annual meeting. Our reception and dinner were held in the Western Development Museum. The opening reception featured welcoming comments from the Honorable Lyle Stewart, Minister of Agriculture, Province of Saskatchewan.
Stewart says, "Agriculture in Saskatchewan is part of our identity here. To some we're known for the wheat in their bread, for the oats in their Cheerios. Others think of us as yellow fields of canola or mustard. Still others are reminded of Saskatchewan each time they dip their spoon into a bowl of lentil soup." But he went on to say that there's a lot more to agriculture in the province.
You can listen to his remarks here: Lyle Stewart Remarks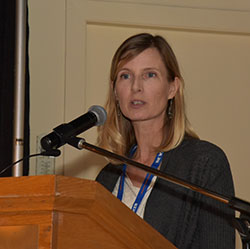 Also welcoming us to the meeting was Crystal Jorgenson, CFWF President. Crystal was on our pre-conference tour with me which some of us dubbed the #LuckyBastardTour. That's because our first tour stop was the Lucky Bastard Distillery where there was ample sampling. The next stop was at 9 Mile Legacy Brewing Company. We survived and she gave us an overview of the rest of our program.
You can listen to her remarks here: Crystal Jorgenson Remarks
I have started a photo album for the conference which you can find here: 2016 Canadian Farm Writers Federation Conference Photo Album