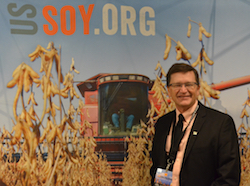 Our 300 international attendees were present for the 2016 U.S. Soy Global Trade Exchange held earlier this month in Indianapolis, offering soy growers from across the country the opportunity to engage with an international audience about the value of U.S. Soy.
One attendee who utilized the opportunity to communicate with the international audience was Kevin Scott, a diversified corn and soybean grower who works alongside his brother, nephew, and son on their operation in South Dakota. Scott also holds several different leadership roles within the soybean industry, serving as an American Soybean Association (ASA) Director and a U.S. Soybean Exchange Council (USSEC) Board Member.
"ASA and the USSEC Board are just furthering my education into what the U.S. soybean industry needs as far as talent and the work force are concerned," said Scott in an interview during the 2016 U.S. Soy Global Trade Exchange. "It's amazing the things that you learn as you move up in these organizations. I've been here quite a while and I'm still not done learning, there is always more to learn."
Talking with foreign buyers was the main focus for Scott during the event, with his take-home message focused on the universal value that U.S. soybeans can offer.
"It's the most economical and sustainable product we can use to feed livestock, to feed people, and to feed the world. It's a wonderful source of protein for the whole world, and our foreign buyers know that," he said. "It's really important for us as U.S. producers to show the world how we produce soybeans and highlight our sustainability practices, our multi-generational operations, and all the things that we do to produce the best, safest, and most abundant product we can."
Listen to Jamie's full interview with Kevin here:
Interview with Kevin Scott, SD Soybean Grower
View and download photos from the event here: 2016 U.S. Soy Global Trade Exchange Photo Album