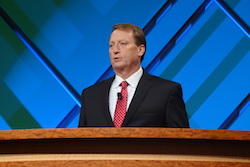 Five members of GROWMARK's leadership team kicked off the 2016 GROWMARK Annual Meeting & Agribusiness Symposium with a presentation of the 2016 GROWMARK Report, an announcement of the company's estimated 2016 financial results. The report was presented to an audience of shareholders present at the event.
The report was presented by:
Mike Woods, Senior Vice President and Chief Financial Officer
Mark Orr, Vice President, Agronomy
Kevin Carroll, Vice President, Energy & Logistics
Brent Erickson, Senior Vice President, Member Business
Barry Schmidt, Vice President, Retail Business
"The ag economy is in a challenging cycle, and many of our farmer-members and customers are feeling economic, regulatory, and environmental pressures," said GROWMARK CEO Jim Spradlin as he addressed the audience prior to the report. "It could certainly be a few years before stronger demand reappears. Our mission is designed to improve our members long-term profitability, and we believe that our system strategies combined with our cooperative structure position us well to excel at what's next."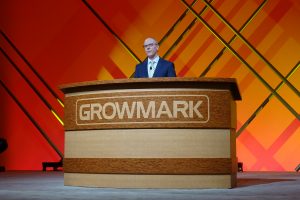 The company reported estimated fiscal year sales of $7.1 billion, lower than recent history, and estimated pre-tax income at $103 million, yielding an 8.2% return on invested capital. An estimated $52 million in patronage refunds will be returned to member cooperatives and farmer-owners.
Report highlights included the Energy Division estimating the highest internal income in history, reports from both the Seed Division and Crop Protection Division of sales down three percent from last year, and the Crop Nutrients Division estimating a sales volume similar to last year.
View and download photos from the event here: 2016 GROWMARK Annual Meeting & Agribusiness Symposium Photo Album