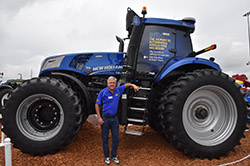 Want a glimpse into the future of farming? You get it at the New Holland exhibit at the Farm Progress Show. On display is a concept tractor that is autonomous. I spoke with Carlo Lambro, Global President for New Holland, about this driverless tractor.
Actually, the owner has the option to drive it or remotely control it since the New Holland machine seen behind Carlo has a fully equipped cab. Carlo says, "It is a concept for the future, where New Holland is investing and looking to help the farming sector be more profitable, more environmentally friendly and to be at the forefront of our technology."

At first glance, the T8 Blue Power tractor on display may have looked like a normal standard tractor to the numerous visitors who packed New Holland's stand at the Farm Progress Show, the annual outdoor farming machinery show in Boone, Iowa (USA). But once the first images of the video dedicated to the tractor and its incredible operational capacities appeared on the screen, everyone understood that they were witnessing a glimpse into the future of farming, one that could feature fully autonomous machinery: something which could redefine the agriculture of tomorrow.
Developed by CNH Industrial in collaboration with its long-standing technology provider Autonomous Solutions Incorporated, ASI, a Utah-based company that is the industry leader in off-road autonomous solutions, the New Holland NHDrive autonomous tractor is an unmanned vehicle that is fully autonomous and can be monitored and controlled via a desktop computer or via a portable tablet interface. This enables farmers to access tractor and implement data, wherever they are, from different locations, while checking fields from the comfort of their pick-up, while tending livestock or from home, and always whenever they need. This facilitates right-time decision making to enhance operational efficiency and productivity. Furthermore, farmers will maintain full control and ownership of their data.

Listen to my interview with Carlo here: Interview with Carlo Lambro, New Holland
You can also listen to a separate interview I did with Carlo in the video below.