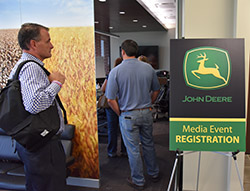 John Deere is hosting agricultural media at their Des Moines Works facility in Ankeny, IA for a look at new products. Follow the #JDReveal hashtag to see their tweets. I'm going to be collecting interviews this afternoon after a plant tour and some class room time with product presenters.
Welcoming us to the event today was Rosalind Fox, Factory Manager. She gave us a brief introduction with some background on this facility before we went on the tour.
You can listen to her remarks here: Rosalind Fox, John Deere, Welcome
I've also got photos online and will add more later when time allows. So keep your eye on AgWired as well as Precision.AgWired.com for more this week.