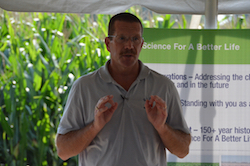 To start the day off in Athens, IL., one of the stops in the Bayer Showcase Plot Tours, Dr. Aaron Hager, University of Illinois, talked weed control with growers and retailers in attendance.
Key weeds Dr. Hager highlighted included marestail, palmer amaranth and water hemp. Two-way resistance is commonly seen in fields across the country, but Dr. Hager talked about three and four-way resistance. He even said a five-way resistant field in Central Illinois was found.
Watch Dr. Hager share his in-depth thoughts on weed control and the latest on dicamba soybeans including issues in Southeast Missouri, reminding growers that no products are labeled yet.
View and download photos from the event here: Bayer Showcase Days Photo Album