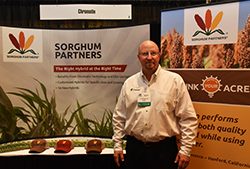 Chromatin Inc., a sorghum breeding and improvement company based out of Chicago, made an appearance at the 2016 Ag Media Summit to highlight the company's breeding programs, as well as its dedication to creating new hybrids and developing new planting seeds for use in both livestock and human food consumption all over the world.
"We're committed to sorghum, we don't focus on any other crop, so whenever we get up every day all we think about is how we can make sorghum better," said Dr. Scott Staggenborg, Ph.D., Director, Product Portfolio and Technology Advancement at Chromatin in an interview during the event.
Chromatin's breeding programs started up seven years ago, and the company just recently released sixteen new hybrids of both grain and forage sorghum. The new seed varieties come as sorghum's environmental durability has been increasingly popular with growers, and as the non-gmo, naturally gluten-free ancient grain has increased in popularity among consumers as well.
"Sorghum's been around a long time, and it is extremely drought tolerant and tolerant of high temperatures, so if we start to think about soils or environments where yields of the other major row crops aren't what they would expect, we often see people have an interest in sorghum and are quite successful with it," said Staggenborg. "A lot of people think that sorghum is really only for western Kansas, western Nebraska, and Texas, but we actually have growers in Missouri, Iowa, and Illinois. It seems like every year we have more and more Illinois growers showing interest in sorghum, and they usually end up pretty happy with the yields."
Listen to Chuck's full interview with Scott here:
Interview with Dr. Scott Staggenborg, Chromatin
View and download photos from the event here: 2016 AMS Photo Album