The head of the organizing committee for this year's Ag Media Summit is Molly Schoen, Editor, Charolais Journal. We got a chance to talk about the process of putting together an AMS which starts in the fall.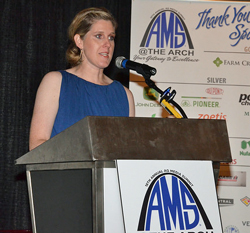 One of the first orders of business is to determine location and start working with the hotel and venue. Sponsors are very important and a lot of time is spent talking with them and finding a session or event perfect for their needs. The trade show is called InfoExpo and we'll be featuring many interviews from participating companies in the next week.
Professional improvement always dominates the session agenda with everything from photography and Adobe software tips and tricks to writing and even a newsmaker session. Awards are big too and full lists of them are being made available on each participating organization's website.
Learn more about this year's Ag Media Summit in this week's program: ZimmCast with Molly Schoen