The Urban Cowboy himself is the newly elected President of the International Federation of Agricultural Journalists. He's Owen Roberts, Director, Research Communications at University of Guelph. Owen (l) is seen being congratulated by past IFAJ President Marcus Rediger after the election during the IFAJ Congress in Bonn, Germany.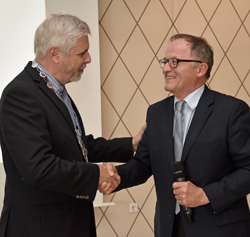 During the closing banquet festivities of the Congress Owen and I talked aboard our dinner boat on the Rhine river. I asked him what he hopes to accomplish and to tell us about this fantastic organization he is taking the helm of. Short and sweet he says his job is to keep it going!
Owen has been very involved with the professional/youth development work that IFAJ has been conducting that include pre-Congress activities like Master Class and the IFAJ-Alltech Young Leaders Program.
Learn more about Owen's plans and the IFAJ in this week's program: ZimmCast with Owen Roberts, IFAJ
2016 IFAJ Congress Photo Album
Coverage of the IFAJ Congress is sponsored by