The biobased industry is taking off in leap and bounds and many companies already have great success stories. One such company is Cargill Industrial Specialties' FR3 transformer fluid produced from soybeans. It was a featured technology during the United Soybean Board's Biobased Stakeholders Dialogue that took place at USDA's headquarters in Washington, D.C. Cargill gave a joint presentation with NASA on how they are using FR3. The products main competitor is petroleum based mineral oil.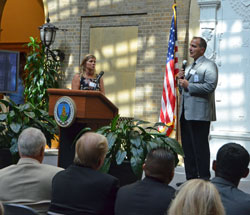 To learn more Cindy Zimmerman spoke with David Bingenheimer, global technologies manager for Cargill.
Bingenheimer explained that FR3 is used in electrical transformers and it has many benefits. "The distinctive advantages of FR3 are, number one, environmentally, it has the best environmental footprint; it's nontoxic, nonharzardous. biodegradable and carbon neutral. It has best in class fire safety capabilities the fire point of mineral oil is 160C and there are mineral fires everyday. The fire point of FR3 is 360C and there has never been a fire in an FR3 filled transformer. And the third is the way the transformer works inside the insulating system. It extends the life of the insulating system and/or used another way it enables additional load from the transformer so it actually improves the performance of the transformer."
Learn more about FR3 by listening to Cindy's interview with David Bingenheimer here: Interview with David Bingenheimer, Cargill Industrial Specialties
Another biobased success story? NASA. Shannah Trout works for the Sustainable Recycling and Acquisition Center at the Kennedy Space Center in Florida. She gave a presentation focused on some of NASA's secrets to success. Last year the space agency purchased nearly $1 million biobased products. "For that alone I am very proud and that proves how we support all of you," she said.
Trout said she is very active in USDA's Biopreferred program and they get out an meet the vendors to learn more about technologies and they also invited them to the space center so they can get a sense of what types of biobased products NASA needs. She noted they buy biobased floor coverings and fuel additives along with a variety of other products that were on display at the Biobased Stakeholder Dialogue.
Learn more about NASA's secrets to success by listening to Shannah Trout's presentation here: Shannah Trout, NASA, Biobased Success Stories