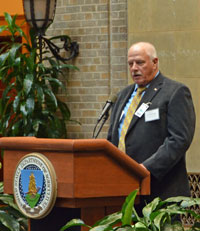 Lewis Bainbridge is a farmer from South Dakota who serves on the United Soybean Board and is one of the stars of a new video touting the benefits of biobased products for the nation – Red, White and Biobased.
"That video is a neat tie-in to show different partnerships," he told me during the Biobased Stakeholders' Dialogue this week in Washington DC. "It shows many of us that have served our country and gives our thoughts on how important it is to have biobased products."
Bainbridge says the growing biobased products industry, with the help of the soybean checkoff, is creating new demand for soybeans. "We have worked with a number of companies in partnership to look at the potential for developing new products and we have a number of success stories," he said.
In this interview, Bainbridge talks about how events such as the stakeholders' dialogue have helped create awareness of biobased products and how USDA initiatives are helping increase use of these products: Interview with USB Director Lewis Bainbridge, South Dakota
Watch the Red, White and Biobased video: