After meeting Emily Skor during the recent EPA RFS hearings in Kansas City I got to sit down and visit with her at the Fuel Ethanol Workshop in Milwaukee, WI. Emily is the new CEO of Growth Energy. At her very first FEW event she was the keynote speaker. You can listen to her speech here.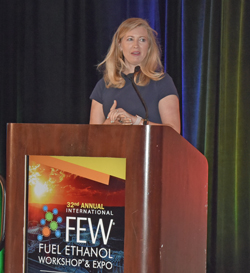 Prior to joining Growth Energy Emily was vice president of communications for the Consumer Healthcare Products Association. While there she had much success in building strategic communications plans where you harness the support of consumers, thought leaders of stakeholder groups and basically a broad coalition of voices. She says you can harness that support in a way that affects policy.
The position with Growth Energy intrigued her because as a Minnesota native she loved the idea of working for an industry that is so important to the heart of America. She sees that the ethanol industry has built a megaphone to champion issues and the cause in the marketplace. Now the conversation needs to expand beyond the corn belt and the beltway to all consumers.
Emily says there are three key areas of focus for Growth Energy. One is continue to make sure the regulatory and policy environment is pro-ethanol. Another is helping build the marketplace, the infrastructure. And finally to drive consumer demand for ethanol.
Learn more about Emily and her work for Growth Energy in this week's program: ZimmCast with Emily Skor, Growth Energy