One company that really "gets" social media in my opinion is Bayer. I'm not alone. The evidence comes in the form of some great recognition for their efforts. In this week's program I talk with Bayer's Jeff Donald about their use of social media on the ag side and how they measure success.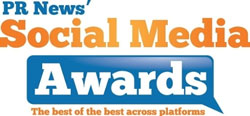 The "Bayer gets scientifically social" campaign has been recognized by PR News with the Best Twitter Community Engagement Award, announced at PR News' 2016 Social Media Awards luncheon in Miami.
The award was specifically for social media efforts directed out of the Bayer U.S. corporate offices in New Jersey, but is indicative of the company's overall growth in use of social media platforms like Twitter, Facebook and Instagram. The Bayer US Twitter account has achieved 98% growth since January 2015.
Additionally, Bayer successfully launched several social media campaigns and partnerships, including a "Thank You" campaign celebrating science mentors, participation at the BlogHer conference, and a partnership with the Luke Bryan Farm Tour. These campaigns produced impressive results. Bayer achieved engagement rates 17% above average at BlogHer and a 96% positive sentiment rating during the Luke Bryan Farm Tour, boosting Bayer's reputation in the U.S.
How about on the ag side though? Well, Bayer has completed some very successful campaigns that make great use of the power of social media. Just some of them include RealYield, FeedABee, Thankful4Ag and Agvocate. Some are still on-going.
Learn more about Bayer's social media experience in the ag sector in this week's ZimmCast: ZimmCast with Jeff Donald, Bayer CropScience