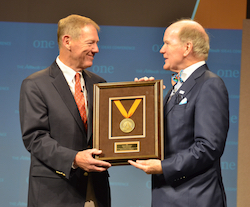 Alan Mulally, former president and CEO of Ford Motor Company, addressed a packed audience in Rupp Arena at the opening session of ONE: The Alltech Ideas Conference, where he received the 2016 Alltech Medal of Excellence for his ability to build a strong team and create prosperity in a company during a time of economic crisis. With his team focused on the single objective of success, Mulally led the resurrection of Ford's brand and directed the company's transformation into the number one automobile brand in the United States.
Through his implementation of the One Ford plan, a compelling vision backed by a comprehensive strategy to deliver profitable growth to the company's stakeholders, Mulally guided Ford's survival through the 2008-1010 automobile crisis and led them back to the top.
"Most people believe that if GM and Chrysler had gone into freefall, it would have taken the U.S. into depression worse than 1929," said Mulally. "Clearly, we needed to develop a better plan for Ford. We came together around Henry Ford's original vision to open the highways to all mankind."
Mulally's new vision for the company redirected energies to a focus on one single goal, and his teamwork-based strategy was showcased in the plan's slogan: One team, one plan, one goal. His vision centered on the principles of inclusivity and transparency, leadership traits Mulally believes are necessary for a company to find success in tough times.
"We began to succeed when our entire team became committed to turning our challenges into prosperity." he said. "Inclusion is one of the most important traits a leader can possess, because working together always works."
View and download photos from the event here:2016 ONE: The Alltech Ideas Conference Photo Album