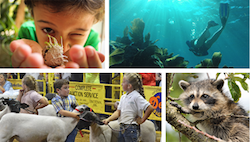 The University of Florida Center for Public Issues Eudcation in Agriculture and Natural Resources (PIE Center) is inviting you to submit your favorite photographs in their 4th annual photo contest.  The Center is looking for pictures that capture a moment, landscape, product or service that represents and celebrates the agriculture industry.
All photographs must be submitted by Friday, March 18 at 11 a.m.  Voting will begin at noon.  Voting will be done on Facebook and winners will be announced in six categories: crops, livestock, wildlife, scenery, leadership and people of agriculture.
Professional photographers are being asked to chose an overall winner and a best of Florida award.  The best overall photo will earn a $100 Amazon gift card, sponsored by UF/IFAS Wedgworth Leadership Institute) and the Best of Florida winner will receive a $50 Amazon gift card compliments of Farm Credit of Florida.
For more information, please contact Phillip Stokes (p.stokes@ufl.edu) or Laura Bernheim (bernheim@ufl.edu)