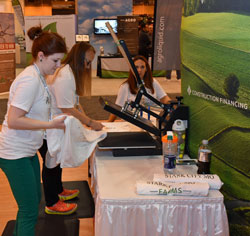 Farm Credit was celebrating 100 years of serving farmers and ranchers across the nation at Commodity Classic last week by serving up personalized tee shirts.
"We wanted to celebrate the resiliency of the farm family," said Sarah Cortese, Director of Communications at Capital Farm Credit in Lubbock, Texas. She added that the t-shirt idea was very popular and they were printing up shirts "like hot cakes, literally." We even had one printed up for Chuck's brother in Georgia, who has his own small acreage estate that he calls Walkin' Z Farms.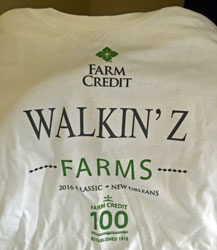 While farm income may be down right now, Cortese says it's nothing new for the agriculture industry. "We've all been there before," she said. "We've been trying to meet with borrowers early and we have a lot of risk management programs that we offer free of charge."
She encourages people to visit the Farm Credit 100 website to learn more about their centennial anniversary and the history of the system.
Listen to Chuck's interview with Sarah here: Interview with Sarah Cortese, Capital Farm Credit