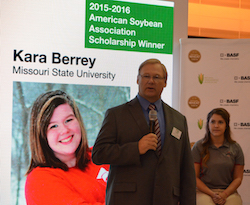 BASF Crop Protection has teamed up with the industry-leading commodity organizations behind Commodity Classic to award scholarships to 10 students pursuing degrees in agriculture. BASF presented the students with their scholarships during the 2016 Commodity Classic along with the American Soybean Association (ASA), the National Corn Growers Association (NCGA), and the National Wheat Foundation(NWF).
Representatives from the three commodity groups were on hand during the presentation, and each expressed incredible gratitude for the generosity that BASF continues to show through their sustained investment in the future leaders of agriculture.
"BASF is so generous to give us five thousand dollars to award in scholarship money, and our partnership with BASF lets us reach out to young people, and not only the ones that receive the scholarship," said Wade Cowan, ASA Chairman, in an interview following the presentation. "We try to make sure that the applicants who don't receive this scholarship get some help, either from their state agency or elsewhere, because its so important to get this next generation involved in the agriculture industry.
Listen to my full interview with Wade here:
Interview with Wade Cowan, ASA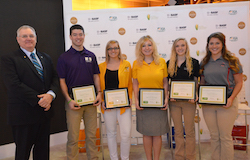 "The voice for agriculture has got to remain strong, and our young leaders are so important in all of this," said Kevin Skunes, NCGA Board Member. "They are so bright, they are shining stars, and we need to get a young voice going for agriculture, because they are the ones who will be heard."
Listen to my full interview with Kevin here:
Interview with Kevin Skunes, NCGA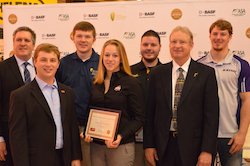 "We're trying to improve wheat and trying to get acres up, and we need more people, especially in education, and this scholarship is able to help us draw more people to our industry," said Phil McLain, Vice-Chairman of NWF.
Listen to Cindy's full interview with Phil here:
Interview with Phil McLain, NAWG