Prior to the start of the American Association of Swine Veterinarians (AASV) in New Orleans, a group of swine vets heard from their counterparts in cattle, poultry and aquaculture during a Boehringer Ingelheim Vetmedica (BIVI) seminar.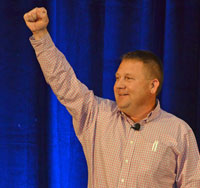 Dr. Nels Lindberg of Kansas belongs to a team of veterinarians known as Production Animal Consultation. For him, the most important controllable factor for animals to start healthy and end strong is people. "We can control how we treat cattle, how we train our employees to interact and co-mingle with cattle," he said. "We also focus on just making people better leaders and teaching them how to lead groups of people."
Listen to my interview with Dr. Nels here: Interview with Dr. Nels Lindberg, PAC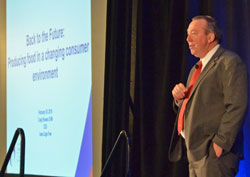 Poultry veterinarian Dr. Craig Rowles with Iowa Cage-Free took the swine vets Back to the Future and talked about producing protein in a changing consumer environment. "What's happened in the poultry industry mimics what is happening in the swine industry today, in fact it just leads it by almost a generation," said Dr. Rowles, explaining how 60 years ago eggs were raised by family farmers selling them for grocery money and that moved into large-scale caged operations to supply a growing population. "Now, in response to the consumer, we're changing back to a cage-free environment, which is leading to some of the problems that we ran into before we went into cages."
Listen to him explain in this interview: Interview with Dr. Craig Rowles, Iowa Cage-Free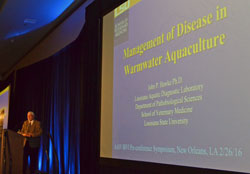 Louisiana State University aquatic diagnostics veterinarian Dr. John Hawke was surprised at the parallels he found between aquaculture and swine production.
"I was amazed at how similar the things that we worry about are," said Hawke. At the same time, treating diseases by vaccination, for example, is quite different for fish than it is for swine. "It's just not efficient to try to inject each little individual fish," he said. "So all of our vaccines we're developing are designed to be short term bath treatments."
In this interview, Hawke also talks about the devastating impact imports have had on the catfish industry. Interview with Dr. John Hawke, LSU
BIVI 2016 AASV Meeting Photo Album
Watch for further coverage of the AASV meeting, sponsored by BIVI, here and on Animal.AgWired.com.
Coverage of American Association of Swine Veterinarians annual meeting sponsored by