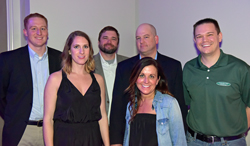 AgWired had the chance to talk with James Konstanty, one of the Crop Insurance and Reinsurance Bureau's Emerging Leaders program members, at their recent annual meeting. The program, now in it's pilot year, did a great job giving the participants an understanding of the background of crop insurance, Konstanty tells Chuck Zimmerman. The group traveled to Kansas City and Washington D.C., met with many groups and talked with leaders in the industry.
But for professionals already attacking their jobs with enthusiasm, how does understanding crop insurance affect their career?
"It is mostly about seeing how crop insurance got to where it is today," Konstanty says. "All the work that it has taken to get it to this place today and how you really have to support that effort going forward because, since it is government program it can be attacked from all sides. And so I think we have a good thing going here and it is really of value to the farmer and want to make sure it doesn't get taken away."
Konstanty says the experience helped him really see that crop insurance is a great business, well-thoughtout to help growers overcome a myriad of obstacles to keep on farming. Learning about the public/private relationship and seeing how well developed, not just accidentally evolved, the program was designed to be helps him appreciate the work he is doing.
Hear more about the program in Chuck's interview here: James Konstanty, CIRB Emerging Leaders Program