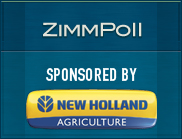 Our latest ZimmPoll asked the question, "Do Iowa Caucus results reflect ag views?"
The early caucuses may influence some voters, however not the majority of those that took our latest poll. 63% said the Iowa Caucus results don't reflect their ag views. Ag issues are continually at the forefront of our minds, but few leading candidates have taken to addressing many of those key issues. Let's hope we hear their take soon.
Here are the poll results:
Yes – 13%
Not mine – 63%
Too early to tell – 16%
Don't know – 4%
Other – 4%
Our new ZimmPoll is now live and asks the question, How many farm shows/conferences do you attend?
Farm show and conference season is in full swing and the AgWired team has been out on the agriblogging in full force. Many are located in warmer temps and not only do they provide little mini vacations for farmers and ranchers, but also provide optimal education opportunities and ample time for networking. So, how many do you attend each year?