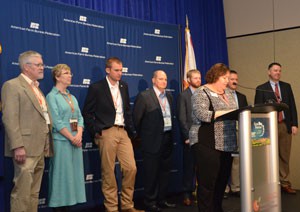 You have until 9:00 am Eastern time to vote for the top Farm Bureau Rural Entrepreneur.
The Final Four gave their presentations on Sunday at the AFBF convention and then came to the media room to tell reporters about their innovations. The challenge, now in its second year, provides opportunities for individuals to showcase business innovations being developed in rural regions of the U.S. It is the first national business competition focused exclusively on rural entrepreneurs working on food and agriculture businesses. So, it's kind of like "Shark Tank" for rural innovators. The final winner will be announced today at 11:00 am.
Learn more about the finalists by clicking the links and click here to vote.
AgriSync – Casey Niemann & Jerrod Westfahl
Farm Specific Technology – ​Shawn Butler & Austin Scott Boliva
AccuGrain – Ryan Augustine & Steven Brockshus
Fedora Malthouse – Julie Baker & John Enderle
Listen to each team give a brief explanation of their innovation here: Final Four FB Rural Entrepreneurs