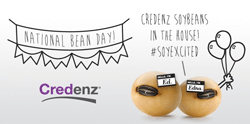 The folks at Bayer CropScience, friendly ZimmComm sponsors, are having some fun today, National Bean Day. Actually, it is their Credenz spokesbeans, Ed & Edna, who are #SoyExcited to be taking charge today of @Bayer4CropsUS. I've heard that there will be more to come during the day. Here's what Ed & Edna have to say about today.

Hi, we're Ed and Edna, Crop Science's new Credenz spokesbeans, and we're #SoyExcited for January 6th, also known as National Bean Day! We couldn't pass up the opportunity to boast about our wonderful smart genetics, we're taking over Crop Science US – literally! (On social media). I guess you thought we were only meant for planting…think again!
To see us in action, you'll have to check out Crop Science US on Twitter, Instagram and Tumblr using #Credenz on National Bean Day

To see how this unfolds we'll just have to follow along. I'll update this post if I see or hear more later. In the meantime, enjoy National Bean Day.

Green, red, dark red, kidney, lima, soy and etc. are just a few of the different kinds of beans that are recognized and celebrated on National Bean Day which is every year on January 6.
This day celebrates the bean vegetable in all sizes, shapes and colors. Beans (legumes) are one of the longest cultivated plants dating back to the early seventh millennium BC.