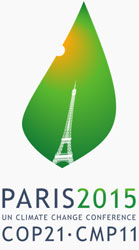 As the announcement came over the weekend that negotiators from nearly 200 countries had approved a landmark climate accord, Agriculture Secretary Tom Vilsack commented on what the deal means for our nation's farmers and ranchers.
"The historic COP21 deal supports a better-nourished, stable, secure future for the United States and every nation," Vilsack said in a statement. "The benchmarks outlined in the deal build on the ambitious climate smart strategy being implemented by U.S. farmers, ranchers and foresters in partnership with USDA and the Obama Administration. Our efforts to boost productivity, reduce greenhouse gas emissions, and share best practices with counterparts around the world will help to address climate change and improve global resilience while continuing to meet global demand for food, fiber and fuel."
The long-term objective of the Paris agreement, which is scheduled to be implemented in 2020, is to limit global temperature rise to 1.5 degrees Celsius. The agreement is based on voluntary pledges and does not need to be ratified by Congress.