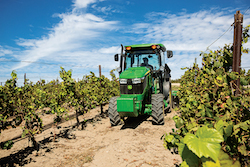 A new, narrow and highly-manuerverable tractor has been unveiled by John Deere.  Their new 5G series tractors offer compact power solutions for specialty crops like orchards and vineyards.  The new tractors meet the final Tier 4 engine emissions requirements.
"The 5G Series Tractors build on the success of the 5EN Series to offer customers more choices for their specialty applications," says Christopher Lammie, product manager, John Deere Augusta. "With two chassis widths for narrow (5GN) and vineyard (5GV) applications, the 5G Series Tractors bring John Deere utility tractor performance into specialty row applications."
The 5G Series Tractors offer a variety of benefits to vineyard producers. The new models – the 5GV and 5GN – are available in widths of 40.5 and 52 inches, respectively, reducing the chance that crops will be damaged in narrow rows. With a tighter turning radius than its 5EN predecessor, the 5GN reduces operator effort, time and fuel consumption during headland turns. Fuel tank capacity is improved over the 5EN with an option for an auxiliary 7.5-gallon fuel tank on the 5GN. Plus an increased cab width on the 5GN Series creates a larger, roomier work environment.
Each tractor promises strong engine performance, with 90 and 100 horsepower models additionally offering Intelligent Power Management.  Economy PTO comes standard, reducing engine RPM by 15 percent.
"Customers also have flexible transmission choices with the 5G Series Tractors," adds Lammie. "The new 5G offers a mechanical 12F/12R transmission or 24F/12R transmission with PowrReverser™."
For more information on the 5G Series, see your local dealer or visit www.JohnDeere.com/Ag.