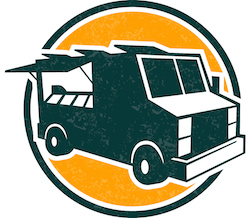 The largest conference and trade show for the potato industry will be hosting a food truck chef competition a their 2016 Potato Expo.  The Spud Nation Throwdown will be held January 12.  Three food truck chefs have been selected from a national competition to bring their most creative and flavorful potato dishes.  Judges will chose one "Top Spud" and award a prize of $5,000.
Almost half the population will purchase a meal from one of the nations 4,500 food trucks this year.  This growing segment has challenged chefs to create new offerings. "The growing number of adventurous diners combined with the universal appeal of potatoes, both as center of the plate and side dish recipes, is the perfect storm," said Phil Lempert, Supermarket Guru. "We predict big things for these food trucks."
Watch Lempert introduce the competition in a video here. You don't have to miss the energy these chefs bring! Live coverage will be streamed via Periscope on January 12.
The chef finalists are:
· Heather Banter from Circle City Spuds – Indianapolis, IN
· Daniel McCarthy from Tato Heads – Columbus, OH
· Bridgett Blough from The Organic Gypsy – Kalamazoo, MI
Watch their video for more information and be sure to follow on Periscope to see the results!