Congratulations to the new slate of National Association of Farm Broadcasting officers and board members elected during the convention last week.
President: Brian Winnekins, WRDN Radio, Wisconsin
President Elect: Tony St. James, KDDD and KFLP Radio, Texas
Vice President: Tom Cassidy, Ag Radio Network, New York
South Region VP: Lorrie Boyer, KSIR Radio, Colorado
West Region VP: Sabrina Hill, AgNet West, California
East Region VP: Bryan McGarvey, WASK/WKOA, Indiana
Allied Industry Rep: Laura Henke, Charleston|Orwig
Allied Industry Rep: Mark Lambert, National Corn Growers Association
Management Sales Council: Neal Gladner, Louisiana Farm Bureau
Management Sales Council: Breck Von Bank, Brownfield Ag News
M & P Chair: Lance Knudson, American Ag Network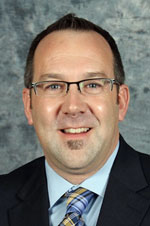 I sat down with Tom Cassidy after the election to talk about what he thinks of the state of the farm broadcasting industry, new technology and issues to work on in the future. Tom is a former dairy farmer who got into farm broadcasting by meeting the legendary Ed Slusarczyk, who passed away in 2006. Tom married Ed's daughter Holly and took over the network, which he now owns.
Learn more about Tom in this week's ZimmCast: Tom Cassidy, NAFB Vice President
Subscribe to the ZimmCast podcast here.