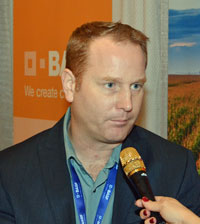 BASF Ag Products just recently received registration for Armezon® PRO herbicide, which offers long-lasting residual control of emerged grass and broadleaf weeds. The BASF product has received full Environmental Protection Agency (EPA) registration for use on all corn types and BASF Technical Market Manager Daniel Waldstein was at NAFB Trade Talk last week to talk about it.
"Armezon PRO can be used with or without glyphosate and works effectively against a broad spectrum of weeds," said Waldstein. "Another feature of Armezon PRO is a low use rate … so that means for growers covering more acres in less time."
Another big plus for Armezon PRO is that it can be used on all different corn types. "So growers don't have to use one product for sweet corn and another product for field corn, they can use Armezon PRO for both," Waldstein says. Armezon PRO herbicide is a combination of topramezone, the active ingredient in Armezon herbicide, and dimethenamid-P, the active ingredient in Outlook® herbicide.
Learn more about Armezon PRO in this interview. Interview with Danial Waldstein, BASF
View and download photos from the event here: NAFB Convention Photo Album