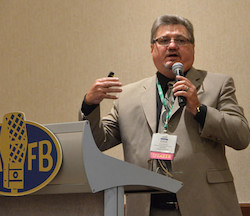 Steve Peterson of the Wisconsin AgroTourism Association recently spoke at the National Association of Farm Broadcasters conference about the amazing growth of ag tourism in his state.  Taylor Truckey had a chance to speak with him for a few moments about this trending movement.
Peterson believes the reason for the excitement surrounding a visit to the farm is linked to several factors.  First, it's a multi-generational activities that families can come and enjoy together.  The farm to table movement is another strong factor.  People want to have an experience on the farm; they want to take a picture and post it to Facebook, Peterson believes.
Whatever is behind it, the industry is growing quickly. Last year Wisconsin boasted 42 event barns for things like weddings, reunions, and retreats.  Now they have more than 200 such sites in the state.
"I think its going to be around for the long haul because people are just going to these barns constantly. I've got two barns that are in my backyard where I live that have weddings booked all the way through 2017, and they are getting major, major money for an event just on a Saturday. I don't see this slowing down at all."
Hear the rest of the interview to hear more about the growth and growing pains of agrotourism.  Interview with NAFB presenter Steve Peterson