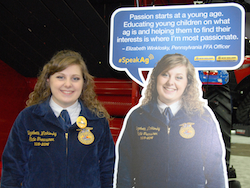 Elizabeth Winklosky is the Pennsylvania State FFA Treasurer and as her state office indicates, Winklosky believes in leadership.
"I'm passionate about how we can make the members into leaders and how they can go out and educate the public on what agriculture really is.  And just being able to have good leaders that come from FFA and striking their passion from that young age to go out and educate the world or just people around them in their community on the importance of agriculture," she shares.
Her own leadership journey began her freshman year when Winklosky joined the FFA, mostly because it was something of a family tradition.  It didn't take long for the programs and opportunities of FFA to spark her interest though.  She reports that each step of her journey brought her further into the ideas of the organization and now FFA is a big part of her life.
Bigger and better are what Winklosky wants to see for FFA.  With her leadership, they are well on their way.
Listen to her full interview with Jamie Johansen: Pennsylvania State FFA Treasurer Elizabeth Winklosky
Find photos from the event here: 2015 National FFA Convention Photo Album