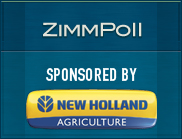 Our latest ZimmPoll asked the question, "Is TPP good for US agriculture?"
Most agree that the Trans-Pacific Partnership is full of winners for agriculture, but few believe all of it is good for the industry. Whichever you currently believe, you can't argue that the future of U.S. agriculture must include trade.
Here are the poll results:
Yes, all of it – 18%
Some winners – 73%
Most losers – 0%
Bad deal for all – 9%
Our new ZimmPoll is now live and asks the question, How do you pass the time flying?
The ZimmComm Team really racks up some miles in the skies each year. Chuck and Cindy are currently in New Zealand and are experts when it comes to passing time in the air. So, we want to know how you pass the time when flying. Do you read, work or play?