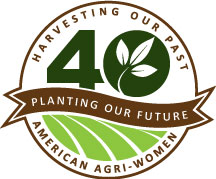 The American Agri-Women (AAW) have been celebrating their 40th anniversary this year and the festivities will culminate with the national convention in Portland, Maine November 5-7.
The convention's theme will be "Harvesting for the Future."  The Maine Agri-Women are hosting the convention and the state is also the home of AAW President Sue McCrum, who is finishing her final year in the position.  In addition to speakers, attendees will also have the opportunity to tour  a 5,000 working farm and educational center, a potato,corn, and grass farm, a farm specializing in fresh-cut vegetables, an original Belgian-style brewery, and an animal healthcare company.
"It's such an honor to celebrate all that we've achieved in our first 40 years in my home state and to plan for a future where we'll continue being a force for truth for American agriculture," says President Sue McCrum.
Speakers include:
· Walter Whitcomb, Commissioner of Agriculture, Forestry and Conservation
· Ann LePage, First Lady of Maine
· Karen Worester of Worcester Wreaths and executive director of Wreaths Across America
· Marge Kilkelly, senior policy advisor for U.S. Senator Angus King
· John Rebar, executive director of the Maine Extension Service
· Kathy Day, a nurse and patient safety activist and advocate