The Illinois Farm Bureau (IFB) is celebrating its 100 anniversary in 2016 and during the Farm Progress Show, kicked off its celebrations with a press conference where President Rich Guebert discussed some of their milestones, upcoming celebratory events, and highlights of key areas of emphasis for the organization.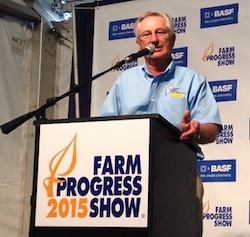 Guebert noted that one reason they were formed was to help Illinois farmers come together to solve problems. Since the formation  additional companies have been created including Country Financial, that provides farmers property and life insurance, and Growmark a company that delivers fuel products to the farm including ethanol.
IFB has also been a voice for farmers in Springfield, IL but also in Washington, D.C. said Geubert. The organization was active in the Farm Bill, WOTUS, tax issues as well as other state-specific issues.
The real kick-off party will take place on January 26, 2016, the official day IFB was formed 100 hundred years ago in 1916 with additional events planned including the opening of the time capsule.
To learn more, listen to the Illinois Farm Bureau's press conference: Illinois Farm Bureau #FPS15 Press Conference